The first part of our latest female muscle growth comic series, The Mysterious Book, is now available for free, with multi-language support!
When a strange, magical book appears seemingly from nowhere, three friends find that it has the ability to grant them immeasurable power; and immeasurably huge muscles to go with it!
But when one of the three decides to use the book's wish-granting abilities and her newfound strength for her own ends, will her friends be able to stop her?
And if you'd like to see what happens next, you can check out the next issue for FREE right here! And consider signing up to Patreon or our Gumroad Premium subscription for access to even more Premium comics and content immediately!
Written by Gribble, with artwork by Boogie!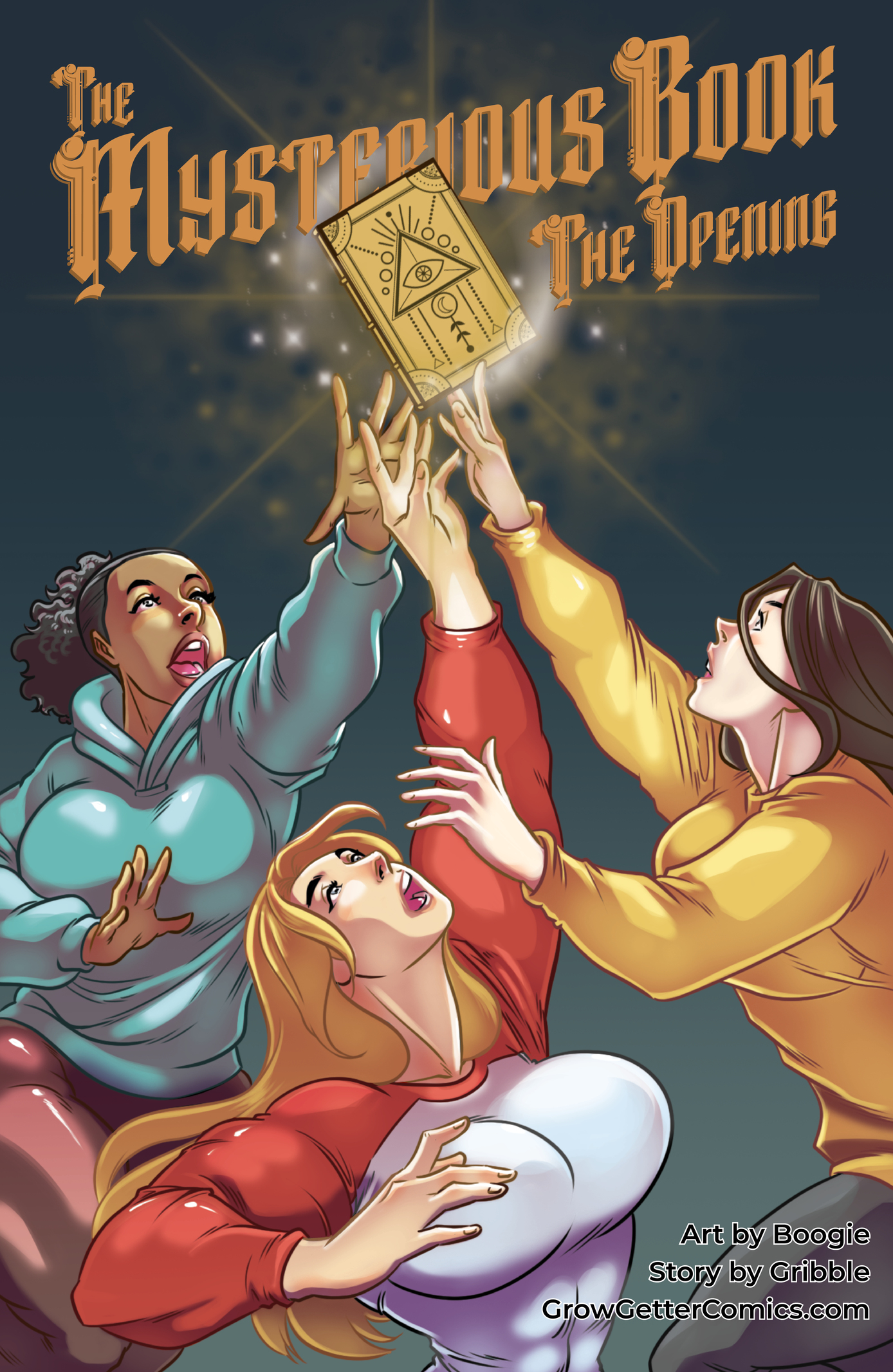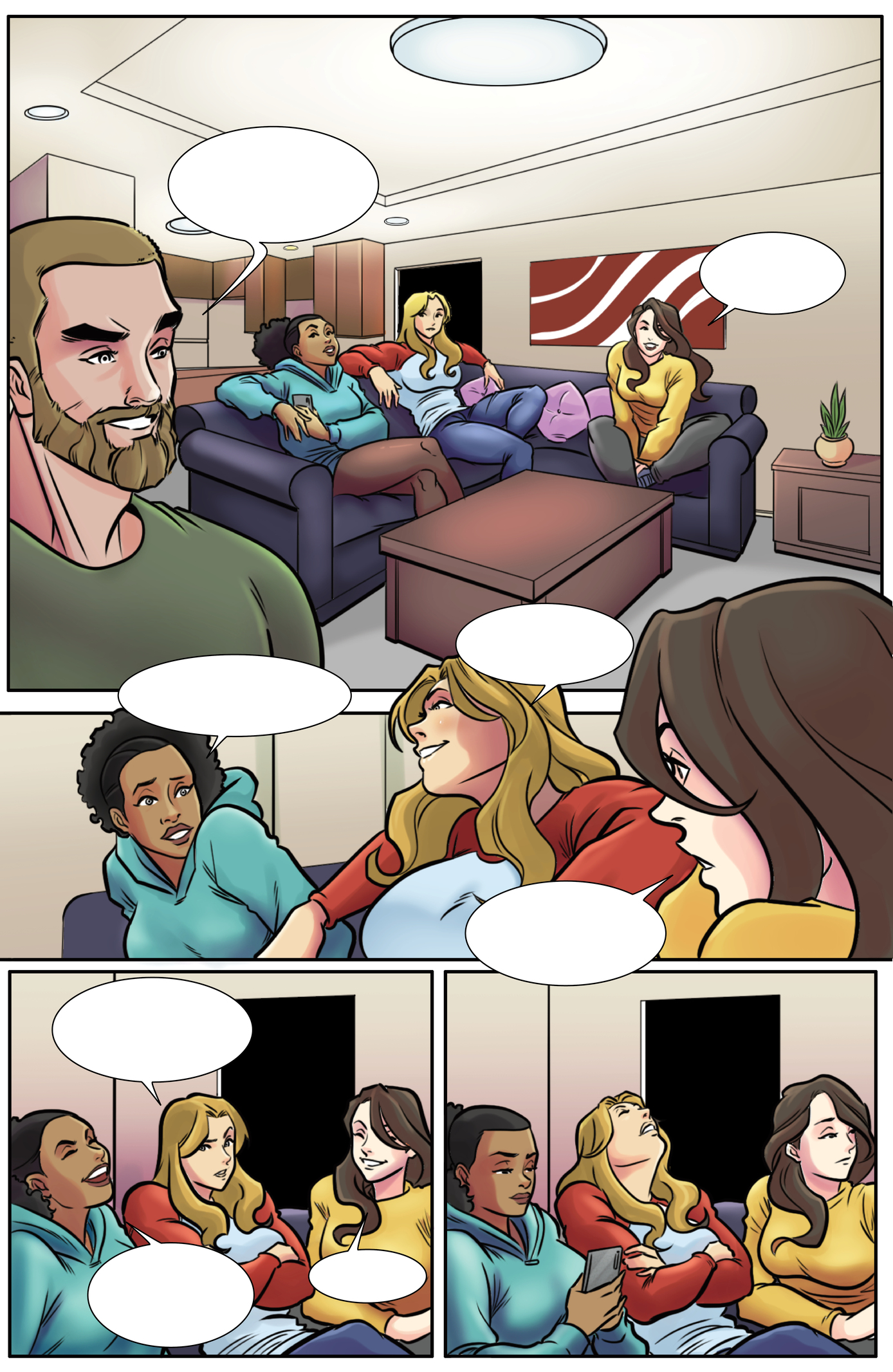 Hey Linda. Hey Tiffany. I'm heading to the basement to work out for a bit, Maria.
Ok Frank, but don't over do it dear.
I'm so bored! Can't you two think of anything for us to do?
I say we go down to the basement and…"
We're not going to workout! It should be something we all like to do Linda, not just you.
Whatever. I don't know why I even hang out with you two wimps anyway
Because, we're the only ones who'll put up with your attitude.
Haha. Good one Tiffany!
WHAT THE… !?!
WHERE THE… ?!?
HOLY FUCK! THAT BOOK JUST APPEARED OUT OF NOWHERE!
Linda! What are you doing?!?
I'm gonna pick it up and look at it moron.
Just… be careful. It might be dangerous or something.
Mmmmm… do you hear that… like it's singing to me…
I wanna hear it!
HEY!
Oh! Me next!
I don't hear anything… I wonder what's inside…
Whoa!
Wait. I think I can read some of it now…
Oh! Me too… Ma… Make me… Make me one hundred times stronger!
What?
The symbols keep changing and moving around…
How's it doing that?
Sounded like she just said… Igna tull bah ramet.
Yeah that's what I thought she said too.
Mmmmm…
TIFFANY! WHAT HAPPENED TO YOU?
HOLY SHIT! LOOK! I HAVE MUSCLES!
OH MY… YOU'RE AS BIG AS ME NOW!
Ooohhh… it's so big and hard! I… I feel so strong now! I wonder…
This… this is some kind of magic book!
Igna tull bah ramet! Igna tull bah ramet! Igna tull bah ramet! FUCK! Why isn't it working!?!
HEY! WHAT THE FUCK? YOU'RE HOLDING ME UP OFF THE FLOOR!
HAHA! Who's the wimp now?
Make me one hundred times stronger!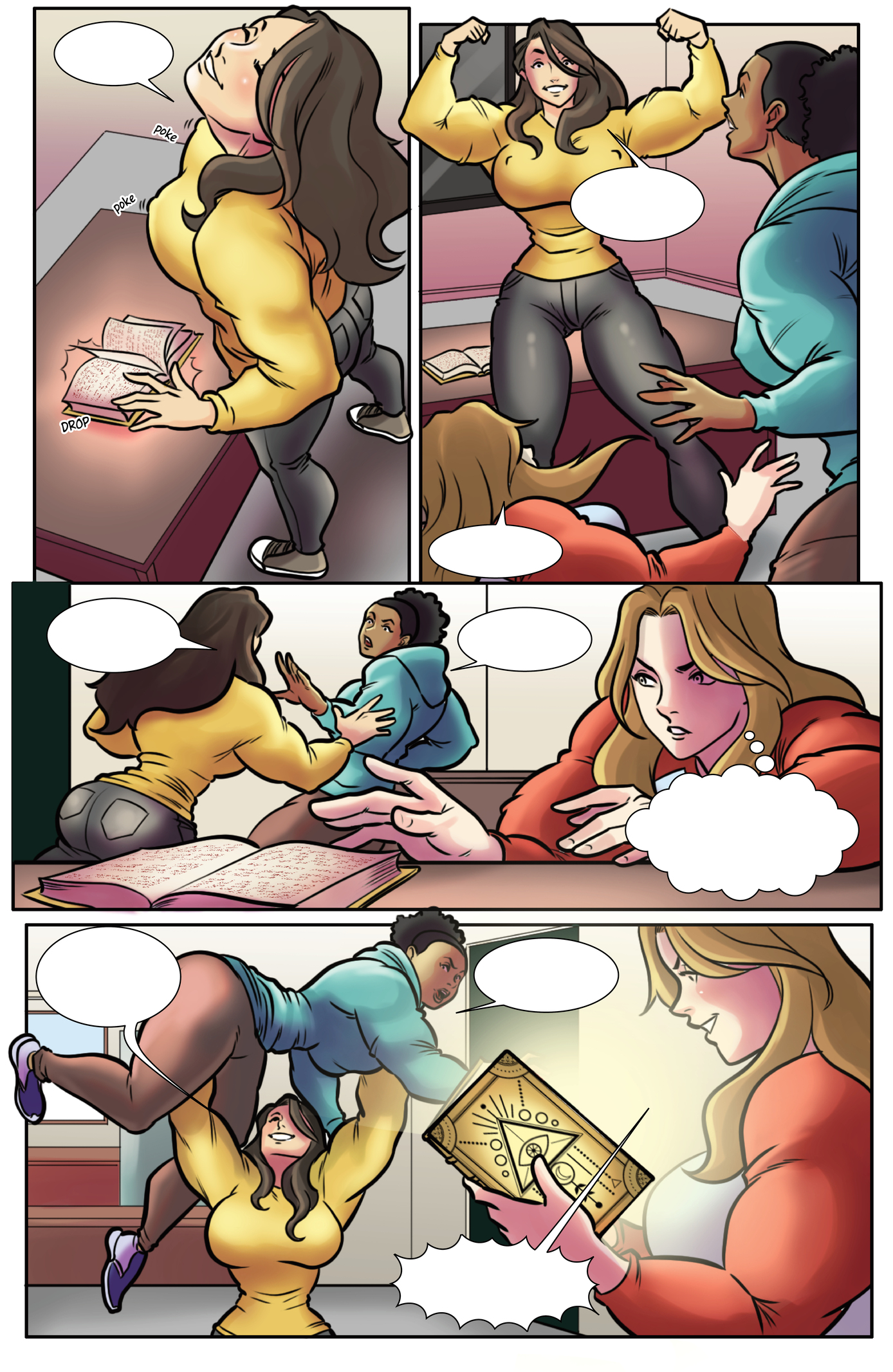 Ooohhh…
Check me out! I feel so… powerful!
Whaaa… Oooff!
I wonder if I'm as strong as you now!
Probably, I mean you… HEY!
FUCK! No way I'm letting these two idiots be stronger than me! Guess I need to be holding this or something…
HAHAHA! I'm the strongest woman in the world!
AS IF. Now put me down before I…
MAKE ME ONE HUNDRED TIMES STRONGER!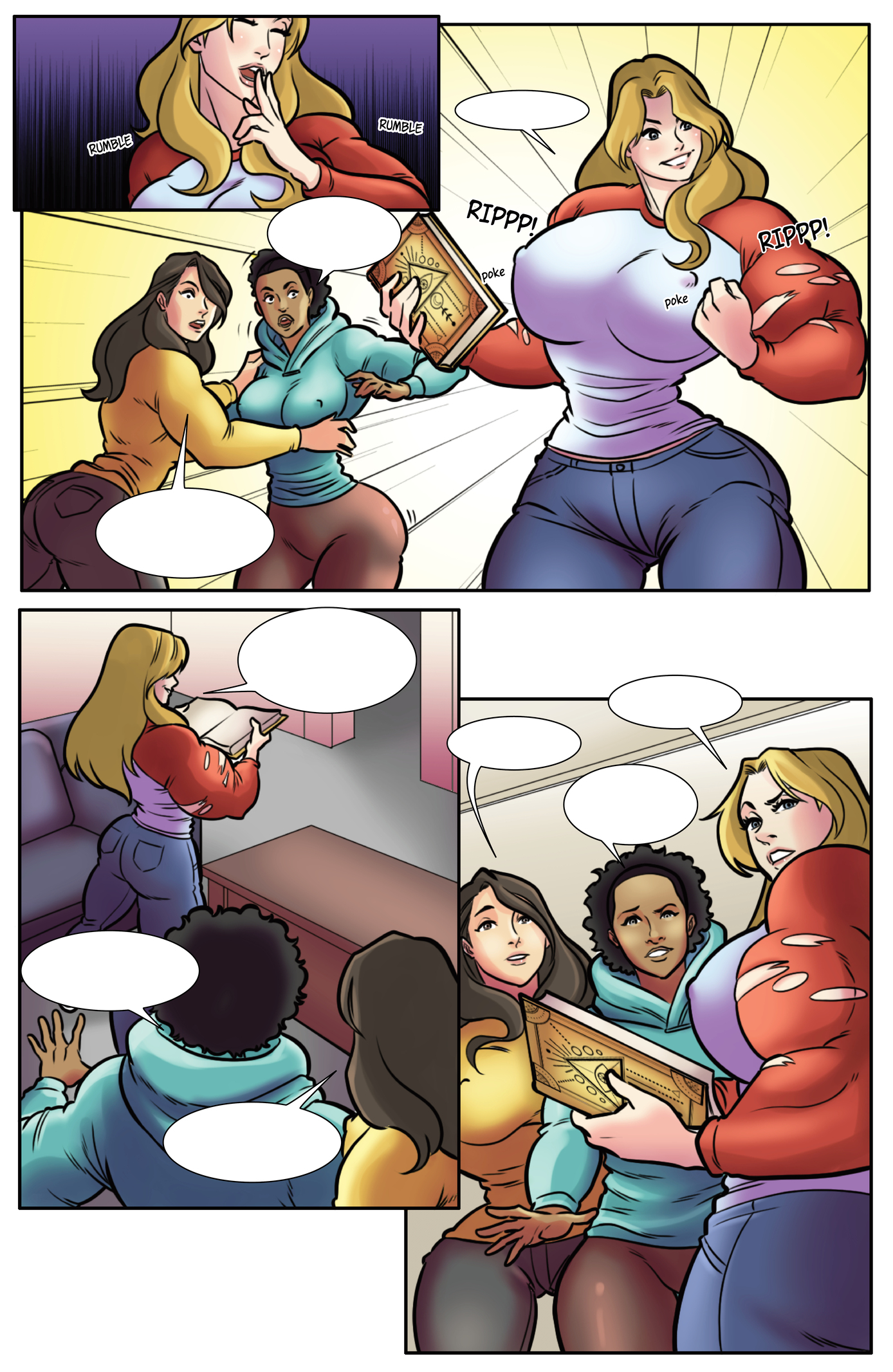 HAHAHA!
Fuck! She's bigger than us again!
Yeah not much, but she tore open her sleeve just by flexing!
MORE! I WANT MORE! MAKE ME ONE HUNDRED TIMES STRONGER!!!
WHAT?!? Hey no fair I should use it again next!
Maybe we shouldn't… it might not be safe to…
FUCK! It didn't work!
I wonder why?
Maybe it only works once per person.
Let me see it for a second.
NO! It's mine! I… HEY!
It appeared in Maria's house so it belongs to Maria!
Weird… I can read everything up to this page but not the one next to it or afterwards
Yeah same here. Hmm, sure are a lot of strange and oddly specific… uh… spells in here
I can read more pages than they can!
Hey, let's show it to Frank!
Yeah, almost forgot he was even here. Maybe he can help us figure this thing out.
I have to get that book back!
Frank is going to shit when he see us!
Yeah, I'm almost as big as he is now and a lot stronger!
I'm not sure I could fight both of them at the same time… need to wait for the right moment.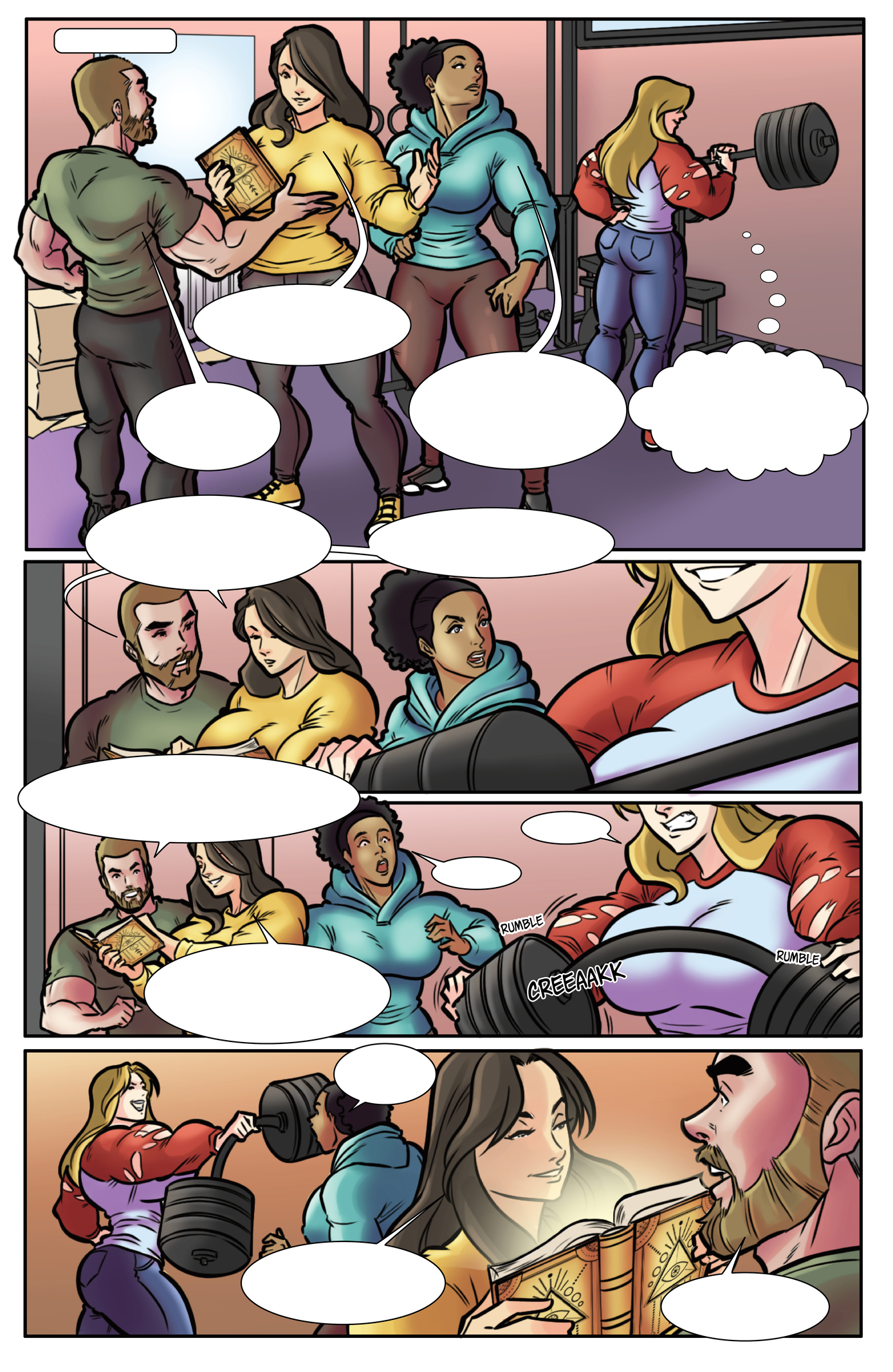 Moments later…
48 …49… 50! HAHA! Fifty reps of five hundred pounds with just one arm! I'm the strongest person in the world!
…and then we came down here to see you. So what do you think dear?
It's unbelievable but… well… look at you three!
Huh? Oh, yeah it sounds crazy but we were hoping you could help us figure out what's going on.
Here, look at these uh… spells. We can only read the first fifteen pages or so, how about you?
What? You can read this? All I see is a bunch of symbols moving around.
You said a person has to read the spell from the book for it to work, right? Well I guess I won't be getting any super muscles then.
Hmmm… wait a second… I thought I saw some spells that seemed like they were for casting on other people…
Hhrrrrr!!!
HOLY…
No way! Let me try that!
AH-HA! This sounds like a good one… Turn this man into my dream lover!
Ur na wern sopit dra? What does that mean?
DAMN!
OH! Now that's a man!
FRANK! I… WOW!
Is there something I can do for you my love? I only want for you to be happy
Oh you look like you can make me VERY happy now. Here Linda, hold this…
AT LAST IT'S MINE AGAIN!
Oh my… Frank… you're incredible… just like in my dreams!
I feel like I'm the one dreaming, how else could I be so lucky as to have the perfect woman for my wife?
Shit! If Maria wasn't my best friend… I'd be all over him!
Oh, so many to choose from… need to find a good one!
Oh Frank. You've never been this loving before… I… I want… no… NEED you… NOW!
Of course, anything you want I shall give you.
Uh… Maybe Linda and I should leave for a while…
This one's perfect! Make these people obey my every command without hesitation!
Please command me Mistress.
HAHA! It worked! Now what should I make them do first?
Yes Mistress.
Oohh… I feel so powerful… so… horny!
All of you… get undressed… we're gonna fuck! But no one can have an orgasm before I do.
Yes Mistress.
Oh I know! Tiffany, come over here…
…get on your knees and then kiss my ass bitch!
Please command me Mistress.
Please command me Mistress.
Yes Mistress.
Yes Mistress.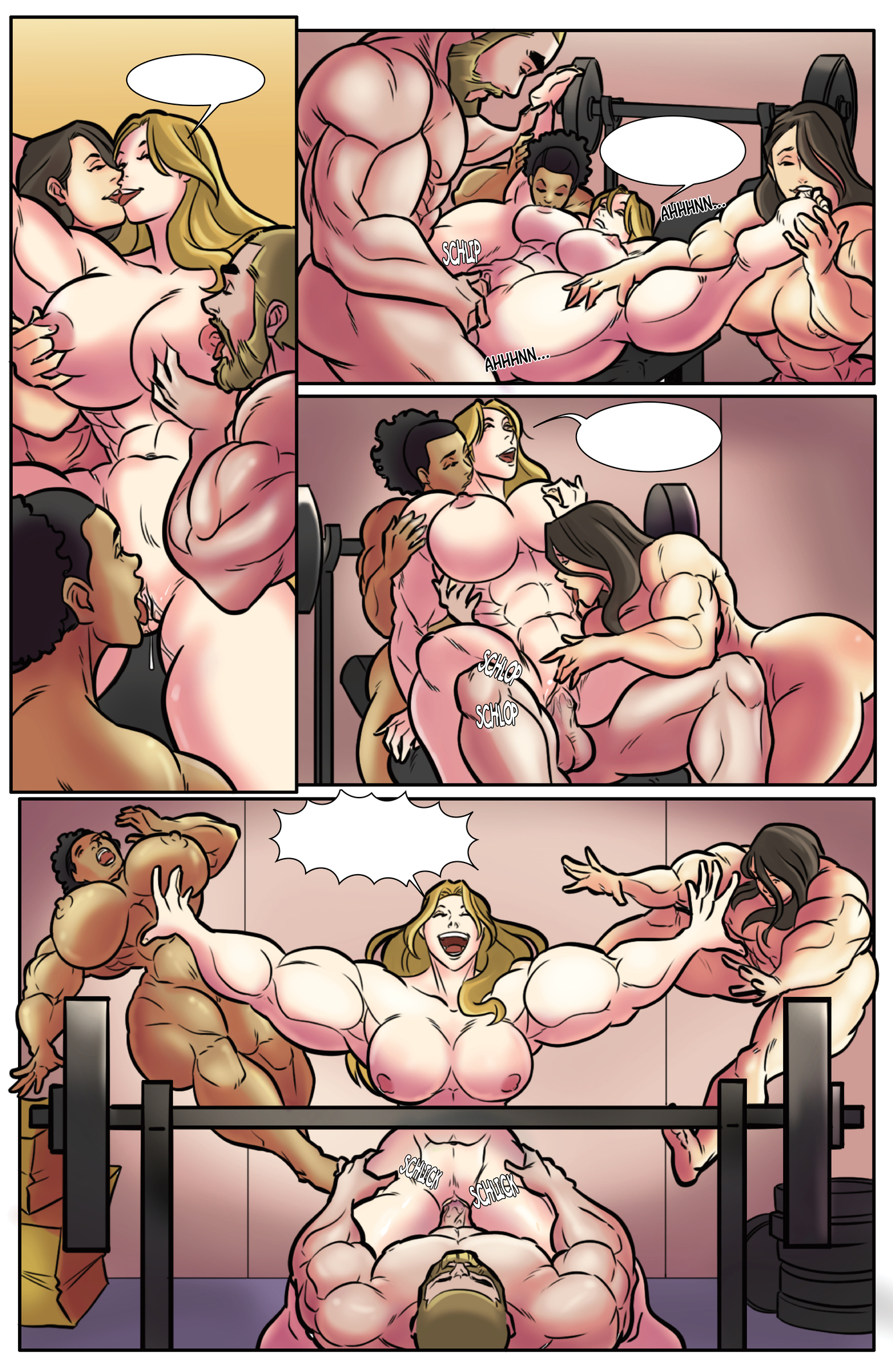 Mmmmmm…
Oooohhh! YEAH! OOOOHHHHH!
OH! OH YEAH! MMMMMM! YEAH
OOOOOHHHH! FUCK! YEAH! I CAN FEEL IT! OOOOOOOHHHHH!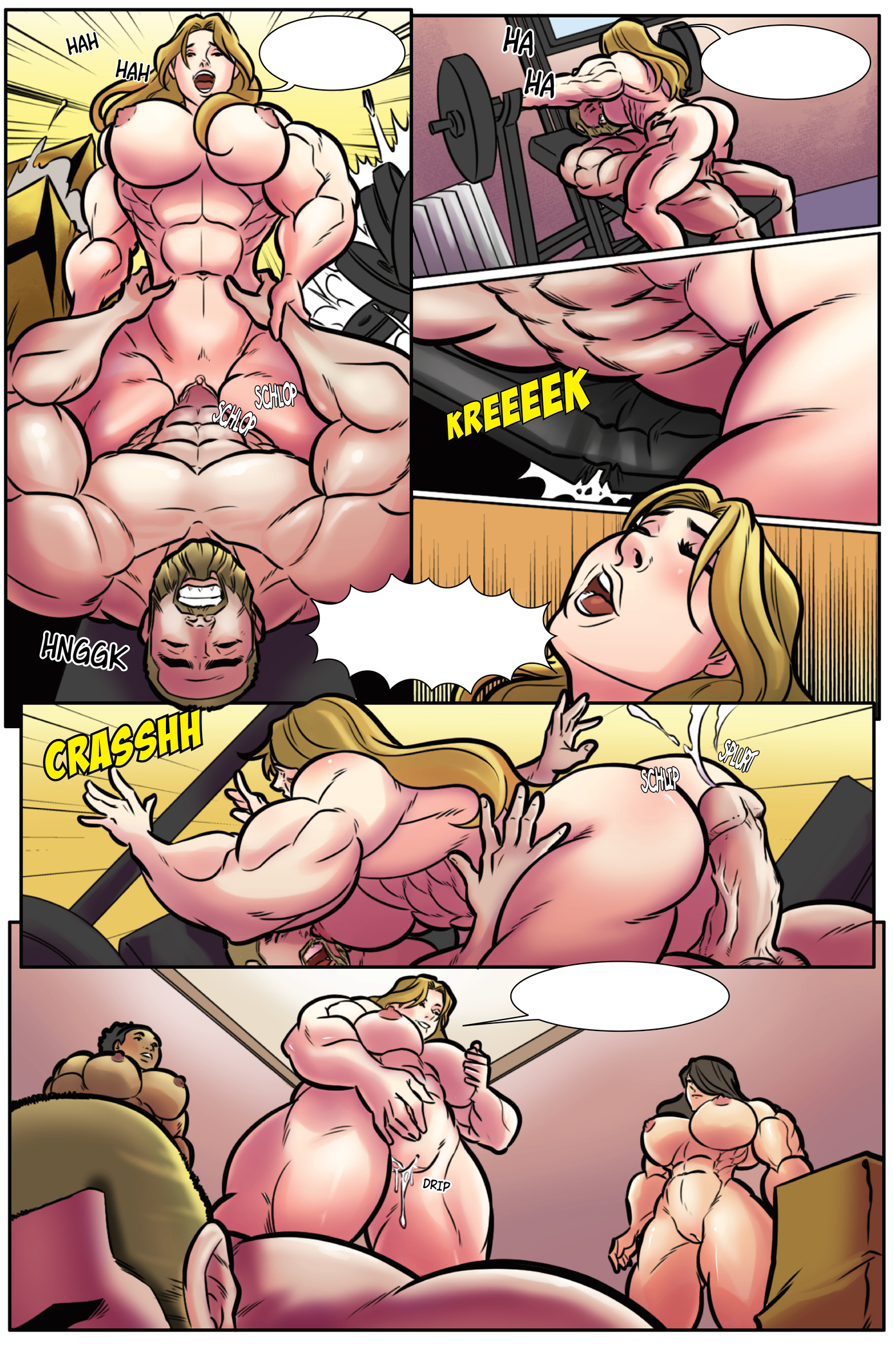 OOOOHHHH! MORE! HARDER! OOOOHHH!!
OOOOOOHHH! YEAH! I'M GONNA… I'M GONNAAAAAAAA…
OOOOOOOOOOOOHHHHHHHHH FUUUUUUUUCCCCKKKKK YEEEEAAAAAHHHHHH!!!!
Mmmmm… that one was the best yet… I lost all control…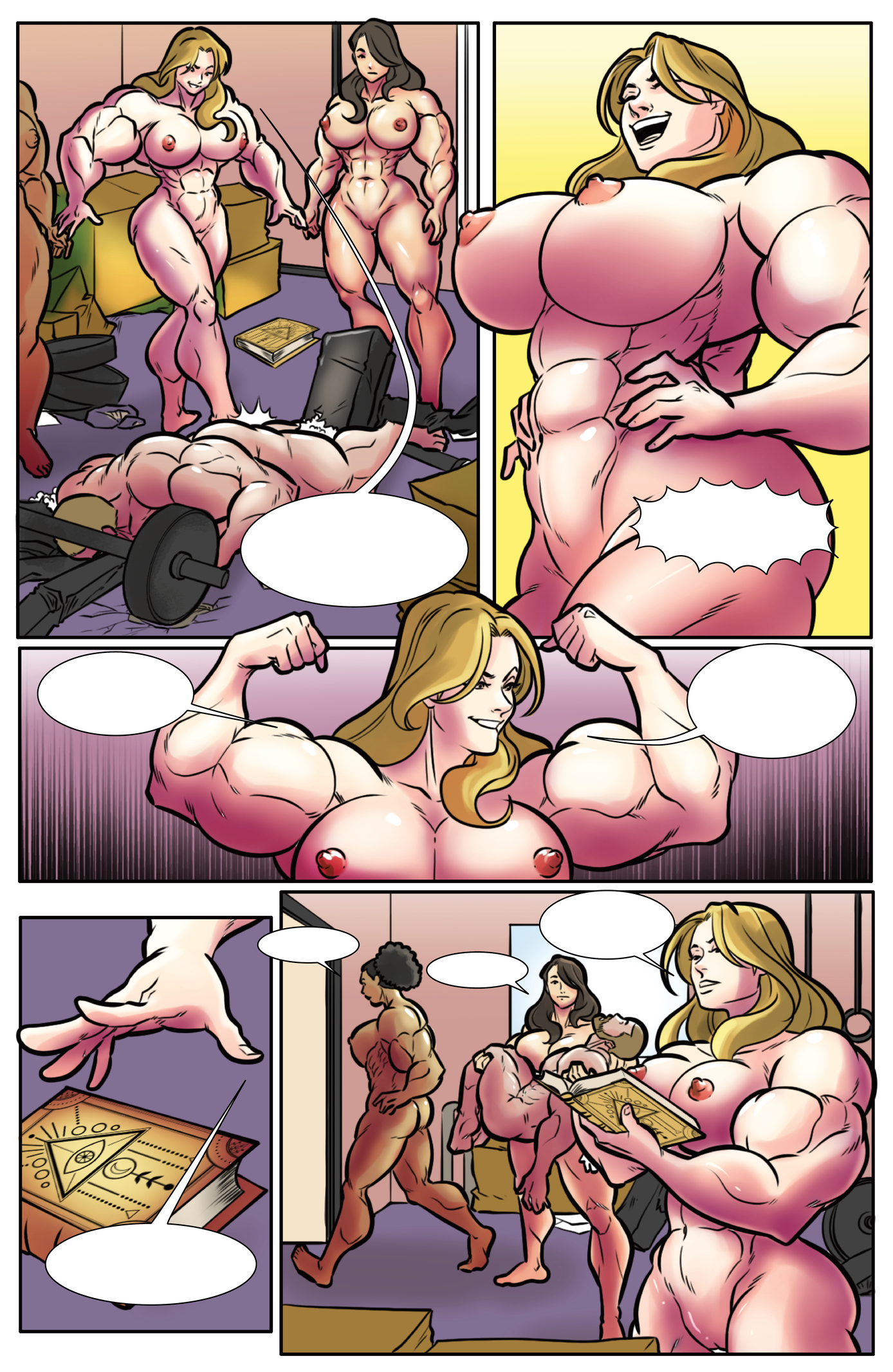 Get up Frank, that was only five orgasms. I want to… Hmmm, he's not moving… doesn't even seem to be breathing…
HAHAHAHA! I JUST FUCKED HIM TO DEATH! HAHAHAHAHA!
Yes Mistress.
Guess all his muscles were for show… unlike mine.
MMMM… so much strength. But I want to be even stronger… even more powerful!
Maria, get rid of that dead body. Tiffany, get us some clothes to wear.
I'm going to do some reading.
Yes Mistress.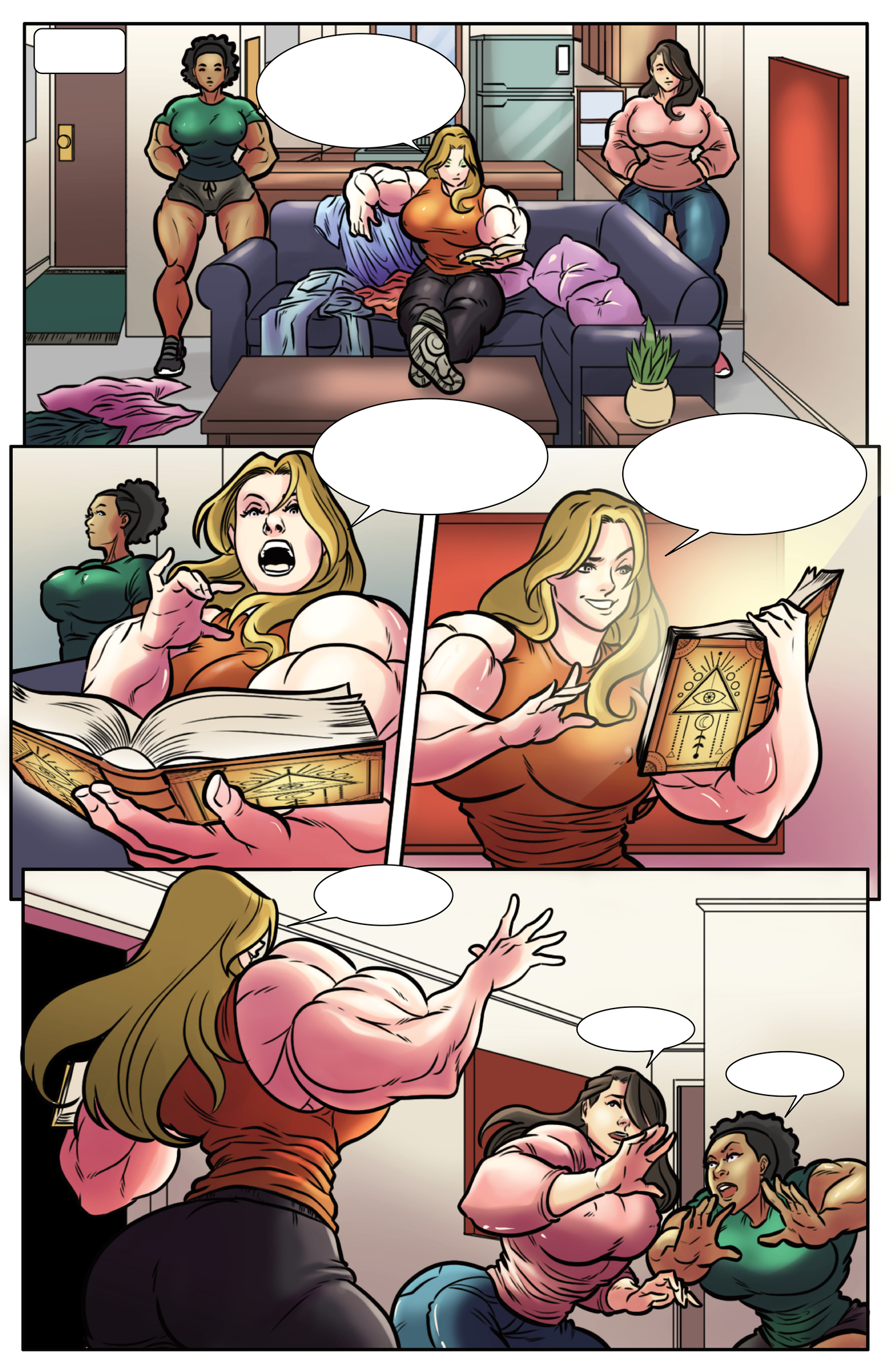 A short time later…
Most of these early spells seem to be sex or item related… Hey! I can read even more spells now! But why?
Wha… a voice… coming from the book… whispering to me… hard to make it out… reward… evil. Oh! I think I understand.
I get rewarded for doing bad stuff! In that case, let's try this spell… Let my power increase for each person that fears me!
I command you two to fear me!
Ye… Yes, Mistress.
Ye… Yes, Mistress.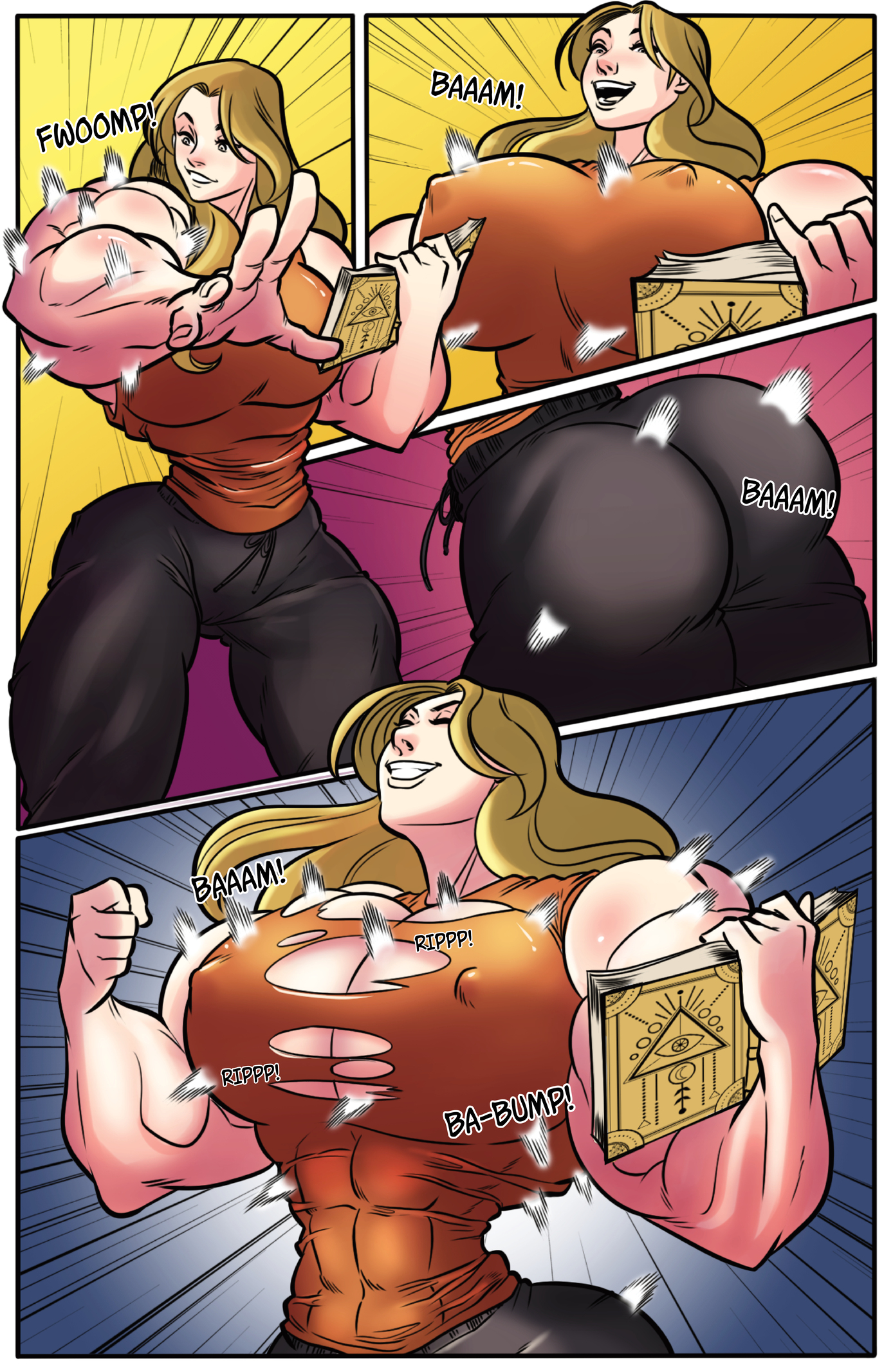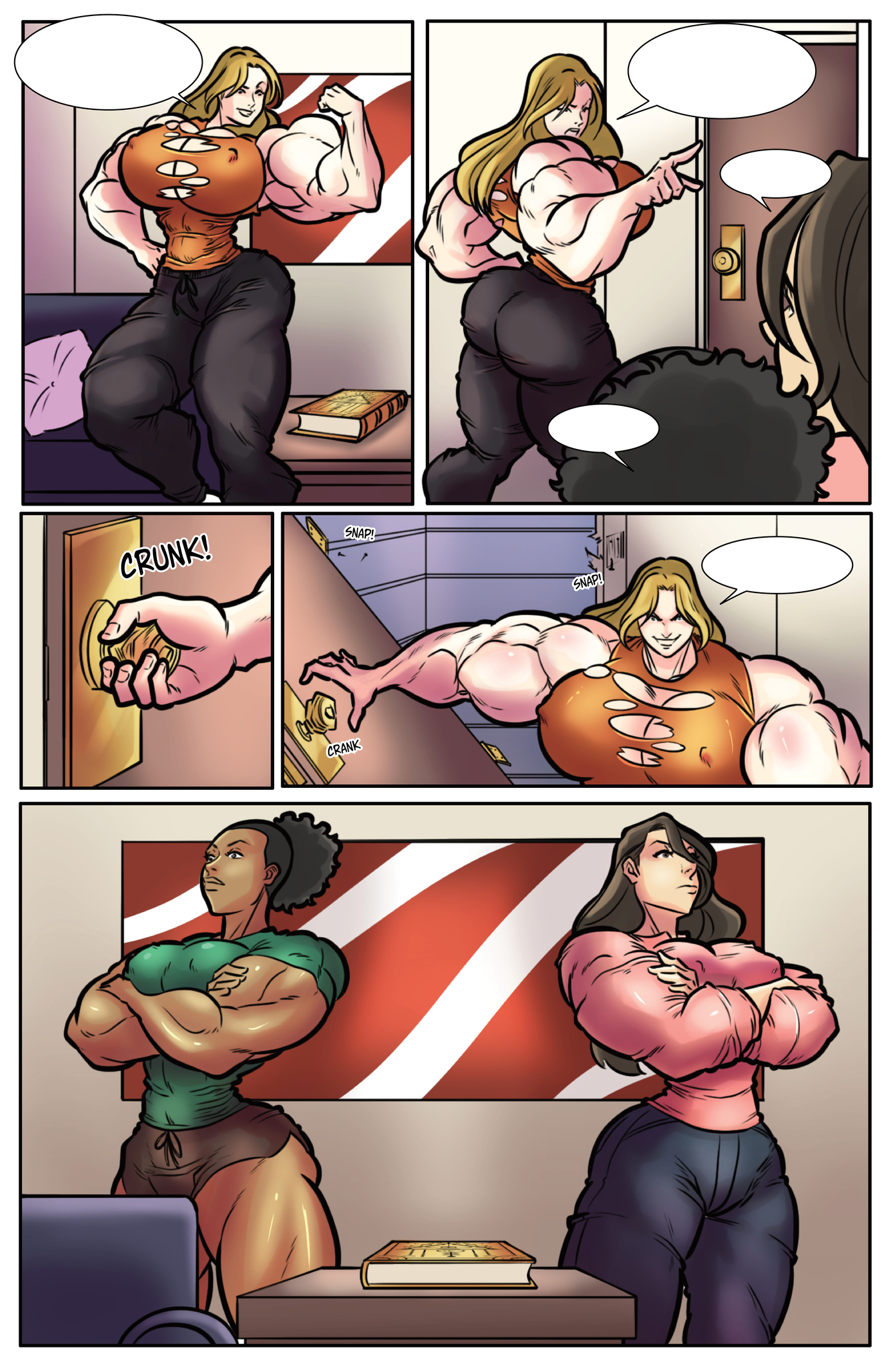 HAHAHA! It worked! But I want more! I have to make more people fear me.
You two, stay here and guard this book. Don't let anyone but me touch or read it.
Yes, Mistress.
Yes, Mistress.
Now to begin my fear rampage!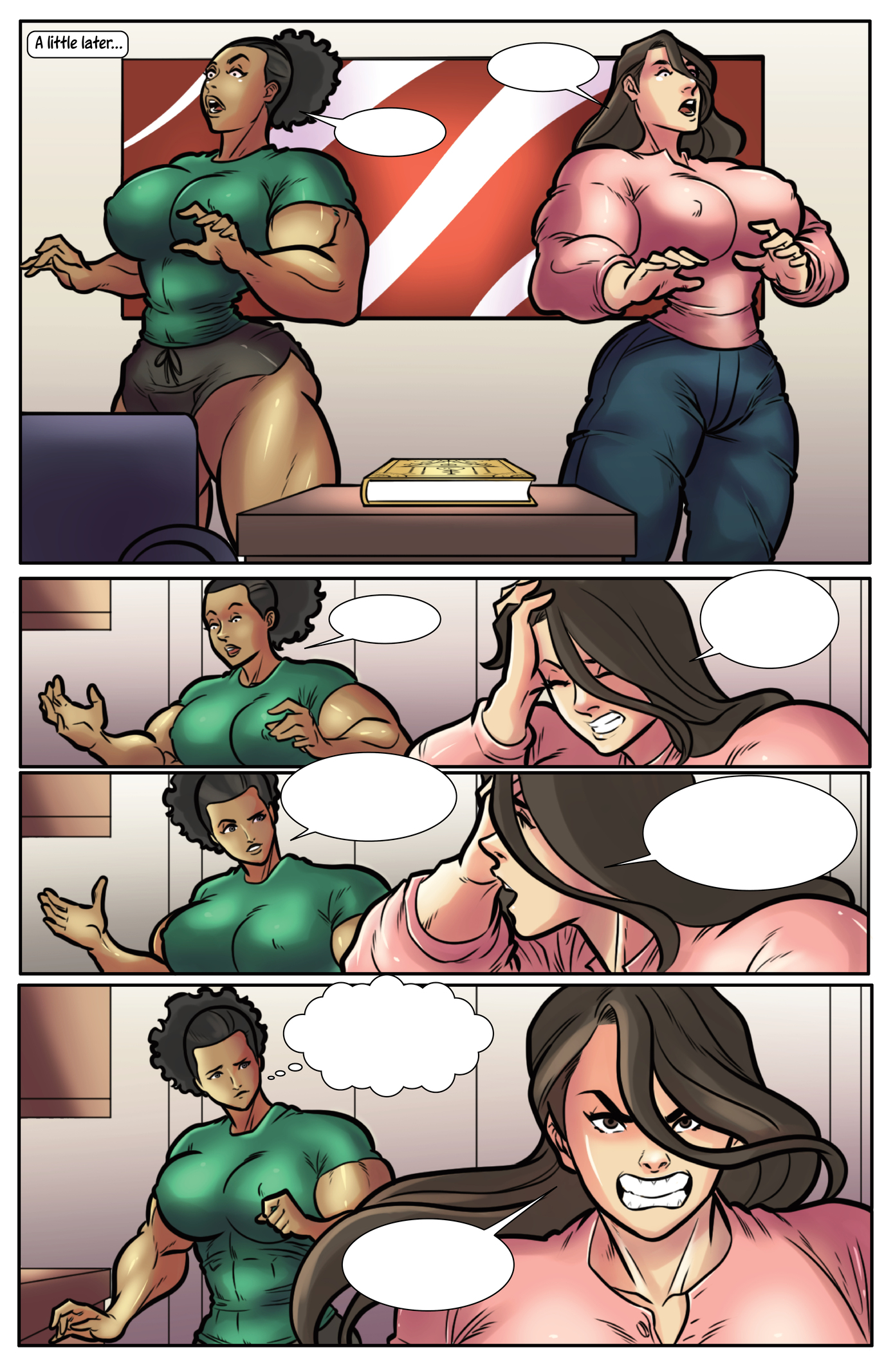 Wha…?
Huh?
OH MY… We're free!
Uugghh, my head… what… what happened to us?
Don't you remember? Linda cast a spell on us… it made us obey her!
I… remember wanting to do whatever she said and then… having sex but then… aahh my head… can't remember more.
She must be blocking out Frank's death… I better not say anything about it for now.
THAT BITCH! She turned us into puppets for her amusement!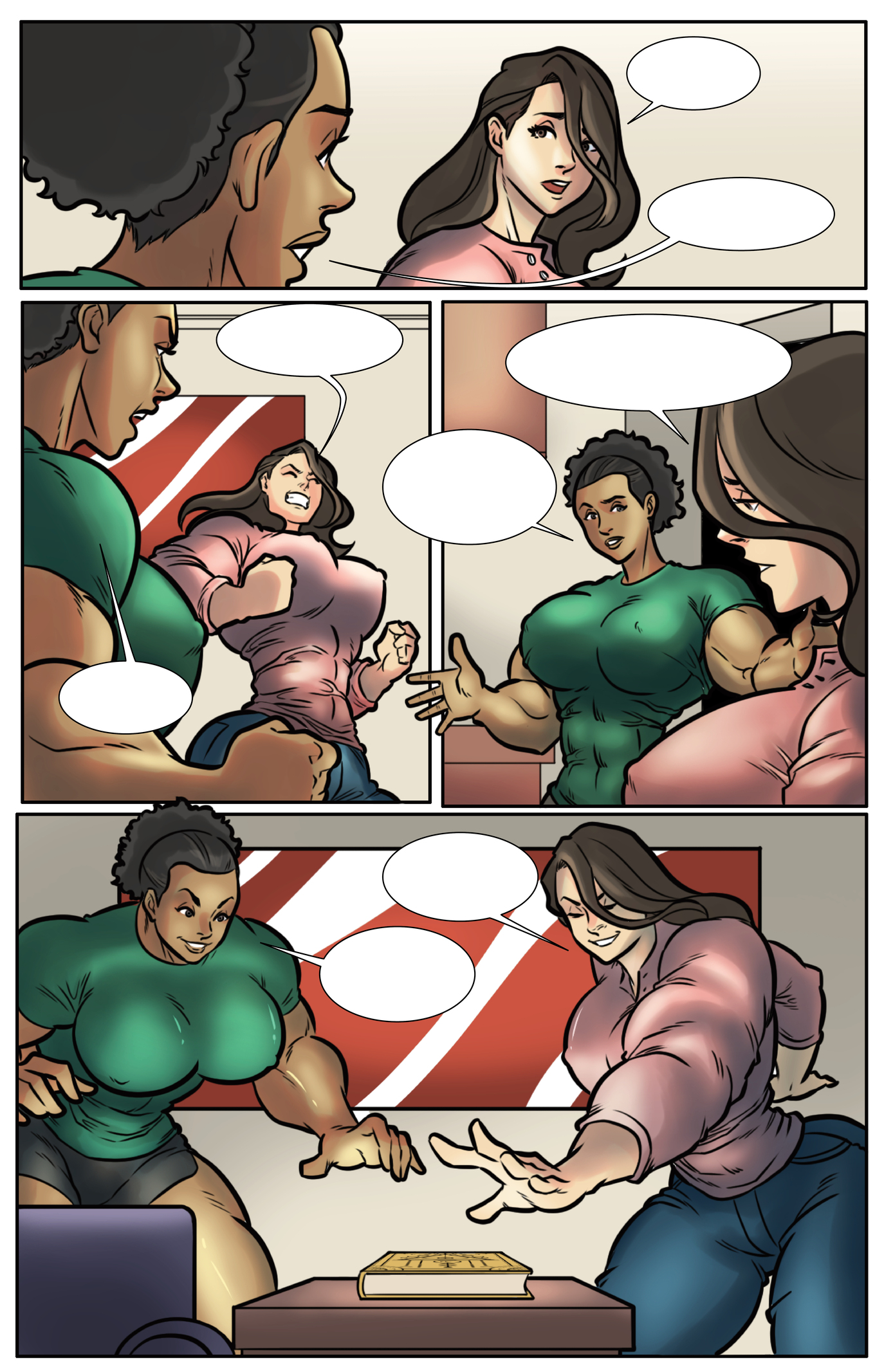 But why are we free now?
I don't know… the spell must have worn off or something.
Well whatever the reason… I'm gonna beat the shit out of her!
Me too! She has to pay for what she did!
But… what if she's too strong now? I mean she read the same spell we did and she was already strong to begin with.
You're right and before she left she read another spell which made her even bigger.
Well then it's a good thing she left us this!
Yeah there has to be something in there to even the odds!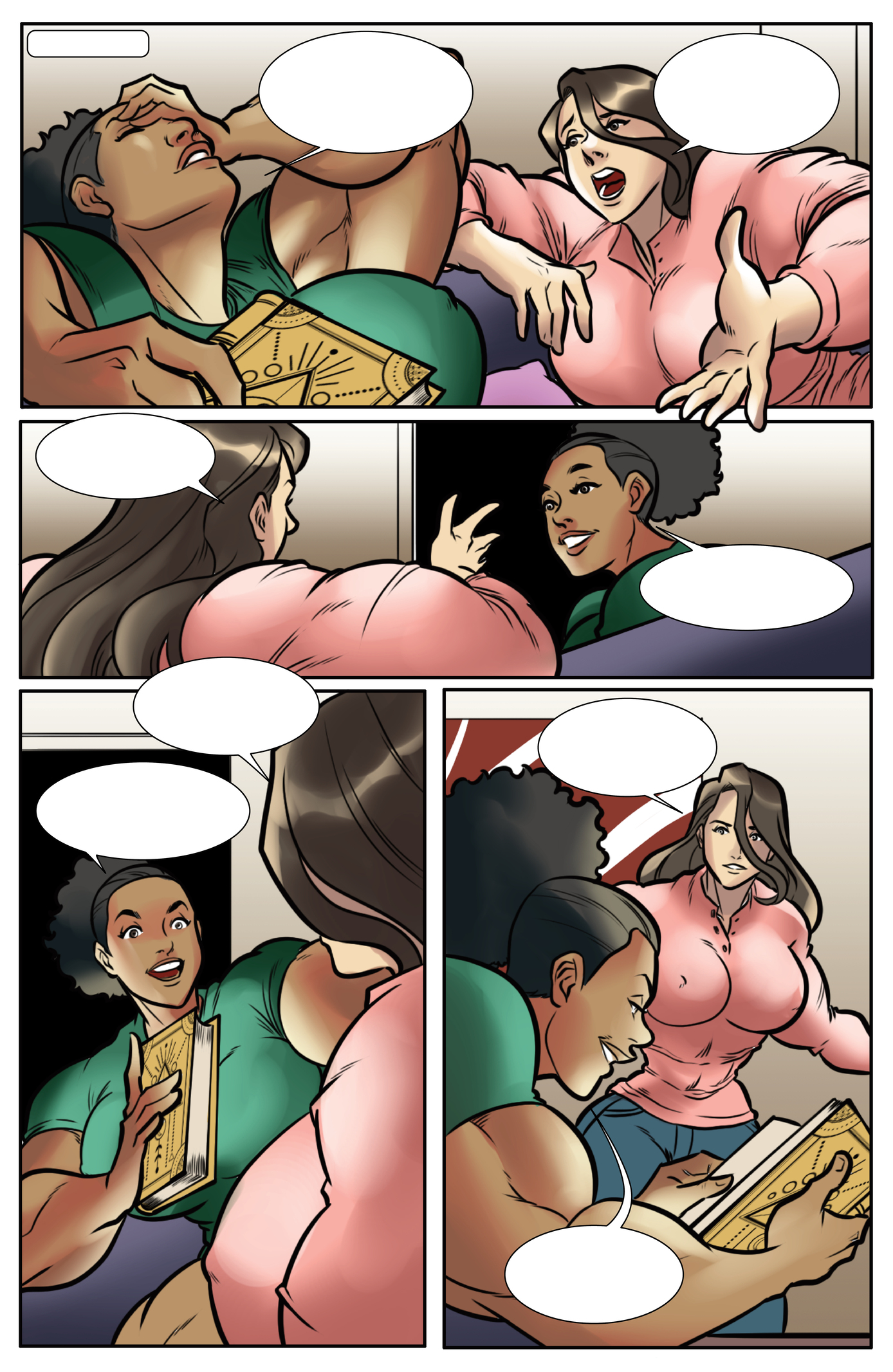 Moments later…
IT'S USELESS! I can't find a single spell that will help! Just some sex related spells and material possession stuff.
I know! I don't even see the spell she used on us. It must be one of the ones we can't read.
If only there was a spell for super powers or something!
Yeah that would be… WAIT! Didn't Frank collect comic books?
He still does. There are thousands of them stored in the spare bedroom. Why?
Quick! Go see if you can find a comic called 'The Golden Champion'. Any issue should do.
Alright, but what's this have to do with getting revenge on Linda?
I'll tell you when you get back. I have to find a spell I saw earlier.
Great timing, I just found the spell I was looking for
Here. Issue one of 'The Golden Champion', now what's this all about?
Well there isn't any spell to give us superpowers directly but I found one that I think can make imaginary things real. The source of the Golden Champion's powers are his power gloves so I figure…
We make his power gloves real! That's brilliant!
But how do you know so much about this Golden Champion super hero?
I had a boyfriend that read the comic and I read a few issues to make him happy. Anyway, I asked for the comic because I couldn't remember what the gloves looked like.
But now that I can see them… Make the items I'm picturing in my mind appear before me!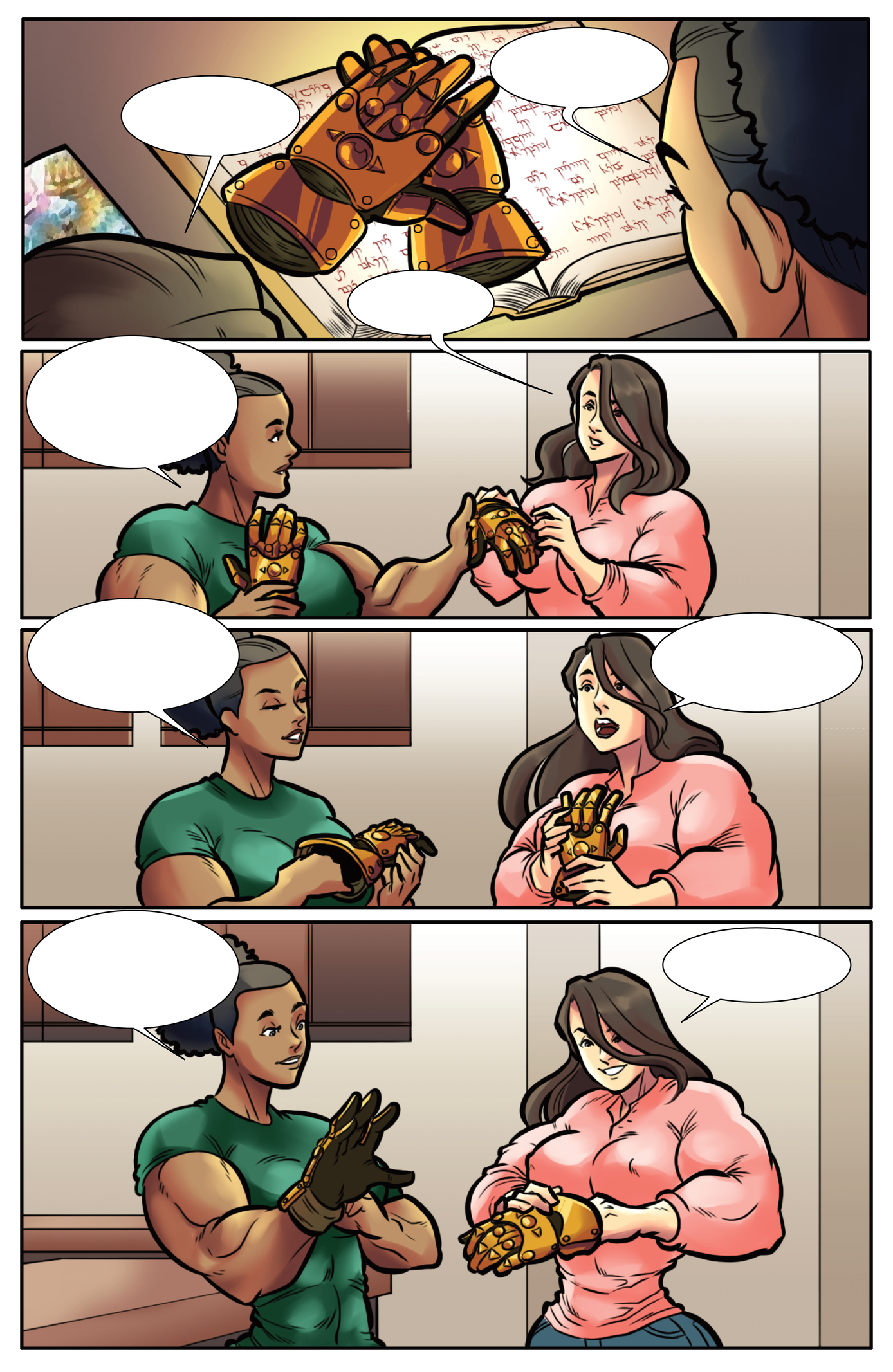 Did it work? I mean I can see they appeared but…
Well they look like the Golden Champion's power gloves.
Yeah, but will they work like them?
Well if they do, we'll be able to fly, have near invulnerability, shoot lasers from our eyes, create and change our clothing at will…
Oh and of course we'll be about five thousand times stronger. Maybe some other powers too I don't…
Five thousand times stronger!?! But we're already one hundred times stronger than normal!
Well in the comic both gloves make you ten thousand times stronger. But I remember that one glove will work by itself.
Well then what are we waiting for? Let's do it!